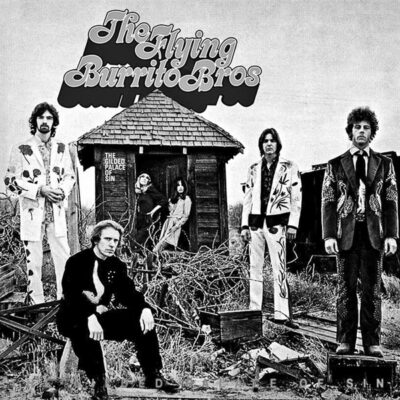 THE FLYING BURRITO BROTHERS
A1: CHRISTINE'S TUNE (3:02); A2: SIN CITY (4:10); A3: DO RIGHT WOMAN (3:56); A4: DARK END OF THE STREET (3:55); A5: MY UNCLE (2:36).
B1: WHEELS (3:02); B2: JUANITA (2:28); B3: HOT BURRITO #1 (3:37); B4: HOT BURRITO #2 (3:15); B5: DO YOU KNOW HOW IT FEELS (2:06); B6: HIPPIE BOY (4:55).
CATEGORY: COUNTRY-ROCK | DURATION: 37 MINUTES
Formed by Gram Parsons and Chris Hillman after both had left the Byrds, The Flying Burrito Brothers took the country-rock template launched on the Byrds' Sweetheart Of The Rodeo and took it to its seminal level with The Gilded Palace Of Sin, recorded in late 1968. Distinguished by "sneaky" Pete Kleinow's amplified steel guitar, the album also flaunts Parsons' concept of countrified soul as a form of universal American music by including mutant cover versions of two classic soul standards. Parsons left the group after a meaningless second album, and recorded enough material for two uneven solo albums – the second released posthumously, for he died in 1973 from an overdose of morphine and alcohol.
THIS BOOK IS DEDICATED TO THE MEMORY OF ROBERT YOUNG (1964-2014)
"ÆTERNUM VORTICE LACRIMARUM SOMNIAT"