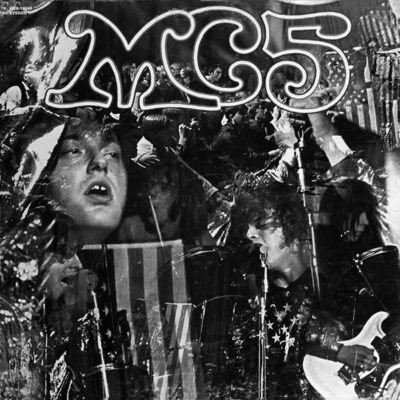 A1: RAMBLIN' ROSE (2:39); A2: KICK OUT THE JAMS (2:37); A3: COME TOGETHER (4:17); A4: ROCKET REDUCER NO. 62 (RAMA LAMA FA FA FA) (5:01).
B1: BORDERLINE (2:45); B2: MOTOR CITY IS BURNING (4:30); B3: I WANT YOU RIGHT NOW (6:02); B4: STARSHIP (8:26).
CATEGORY: TRANSGRESSIVE | DURATION: 36 MINUTES
In 1967, Detroit band the Motor City Five were taken up by local revolutionary John Sinclair, shortening their name to the MC5 and facing as house band for his White Panther Party, whose manifesto was based on a sex-and-drugs-fuelled tearing-down of societal norms. Signing to Elektra, the MC5 took the equally anti-conventional step of releasing a live album as their debut for the label. Recorded in October 1968, Kick Out The Jams is revolution made manifest through electric music, delivered with unprecedented energy and ferocity in a skull-smashing, intermeshed two-guitar assault that veers in and out of free-jazz-inspired sensory derangement. After breaking down for two incendiary blues numbers, side B climaxes with the 8-minute "Starship", an experimental space-noise trip inspired by the interplanetary visions of jazz cosmonaut Sun Ra. The transgressive rock sound of Kick Out The Jams, combining anarchic aural assaults with an equally radical political message, constitutes an aesthetic blueprint which would lead directly to the "punk" movement of the 1970s.
THIS BOOK IS DEDICATED TO THE MEMORY OF ROBERT YOUNG (1964-2014)
"ÆTERNUM VORTICE LACRIMARUM SOMNIAT"