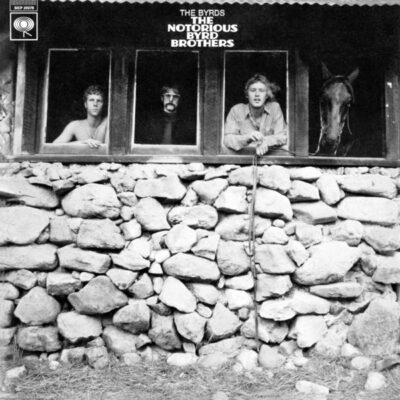 THE NOTORIOUS BYRD BROTHERS
A1: ARTIFICIAL ENERGY (2:18); A2: GOIN' BACK (3:25); A3: NATURAL HARMONY (2:19); A4: DRAFT MORNING (2:33); A5: WASN'T BORN TO FOLLOW (2:04); A6: GET TO YOU (2:39).
B1: CHANGE IS NOW (3:21); B2: OLD JOHN ROBERTSON (1:48); B3: TRIBAL GATHERING (2:03); B4: DOLPHINS SMILE (1:59); B5: SPACE ODYSSEY (3:52).
CATEGORY: POP-ROCK | DURATION: 29 MINUTES
A further and final refinement of the sounds heard on the previous album Younger Than Yesterday, The Notorious Byrd Brothers also marks the end of the band's classic period – founder member David Crosby was fired during recording due to various differences, and is represented on the album cover by a horse. The album itself stands as the terminus of a musical trip which began in folk-rock and moved through psychedelia to climax with a work which supersedes both to present some of the most beautiful and pure American popular music of the decade, a transcendental vision now forever suspended in time and space. The Byrds carried on, and would next turn to country-rock with the significant (but brief) recruitment of singer-songwriter Gram Parsons, formerly of The International Submarine Band.
THIS BOOK IS DEDICATED TO THE MEMORY OF ROBERT YOUNG (1964-2014)
"ÆTERNUM VORTICE LACRIMARUM SOMNIAT"