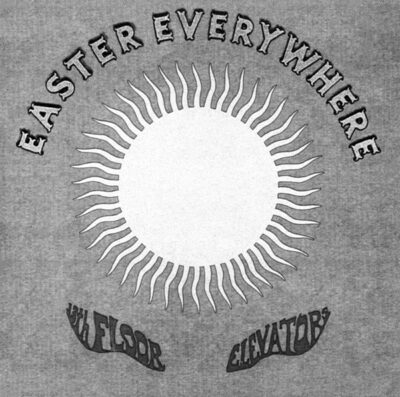 A1: SLIP INSIDE THIS HOUSE (7:55); A2: SLIDE MACHINE (3:38); A3: SHE LIVES (IN A TIME OF HER OWN) (2:53); A4: NOBODY TO LOVE (2:50); A5: BABY BLUE (5:05).
B1: EARTHQUAKE (4:43); B2: DUST (3:55); B3: LEVITATION (2:37); B4: I HAD TO TELL YOU (2:23); B5: POSTURES (LEAVE YOUR BODY BEHIND) (6:20).
CATEGORY: POP-ROCK | DURATION: 42 MINUTES
The second album by 13th Floor Elevators – fronted by Roky Erikson, who would gain renown as one of rock's first acid casualties – is where the Texas band's music hit its peak. Easter Everywhere contains music unlike any other, a shimmering psychedelic garage-rock as illusory as a desert mirage. The album includes a hallucinatory version of Bob Dylan's "It's All Over Now, Baby Blue" which even beats the Byrds in terms of re-imagining Dylan's acoustic songs as breath-taking electric pop-rock. In a year marked by essential album releases, Easter Everywhere is equal to any.
THIS BOOK IS DEDICATED TO THE MEMORY OF ROBERT YOUNG (1964-2014)
"ÆTERNUM VORTICE LACRIMARUM SOMNIAT"