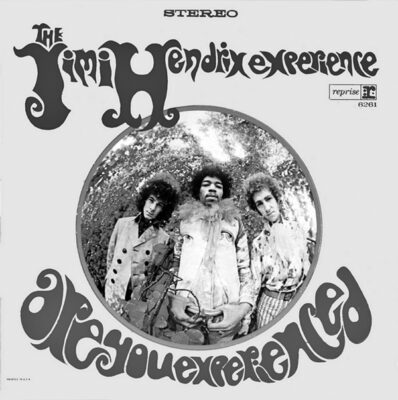 THE JIMI HENDRIX EXPERIENCE
A1: PURPLE HAZE (2:46); A2: MANIC DEPRESSION (3:30); A3: HEY JOE (3:23); A4: LOVE OR CONFUSION (3:15); A5: MAY THIS BE LOVE (2:55); A6: I DON'T LIVE TODAY (3:55).
B1: THE WIND CRIES MARY (3:21); B2: FIRE (2:34); B3: THIRD STONE FROM THE SUN (6:40); B4: FOXEY LADY (3:15); B5: ARE YOU EXPERIENCED? (3:55).
CATEGORY: POP-ROCK | DURATION: 39 MINUTES
The debut album by the most extraordinary and influential electric guitarist of all time. Jimi Hendrix started out in various backing bands, including those of Little Richard and Curtis Knight, before relocating to England in 1966 where he was signed up by Chas Chandler and formed his trio, The Jimi Hendrix Experience. Are You Experienced unleashes the genius of Hendrix both as song-writer and guitarist, with a series of tracks which simply detonate the previously accepted rock styles both in composition and execution. Hendrix's weaponized guitar spews feedback and distortion but loops them into a melodious meltdown of orgasmic electric sound, a crazed new music which blasts apart the doors of perception.
THIS BOOK IS DEDICATED TO THE MEMORY OF ROBERT YOUNG (1964-2014)
"ÆTERNUM VORTICE LACRIMARUM SOMNIAT"