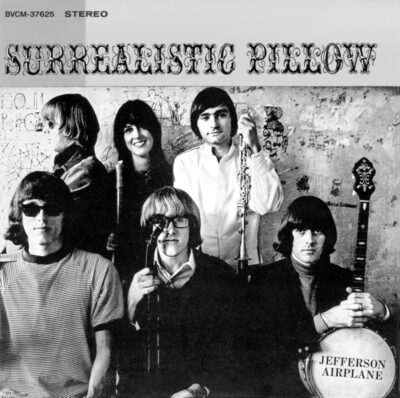 A1: SHE HAS FUNNY CARS (3:03); A2: SOMEBODY TO LOVE (2:54); A3: MY BEST FRIEND (2:59); A4: TODAY (2:57); A5: COMIN' BACK TO ME (5:18).
B1: 3/5 OF A MILE IN 10 SECONDS (3:39); B2: D.C.B.A.-25 (2:33); B3: HOW DO YOU FEEL (3:26); B4: EMBRYONIC JOURNEY (1:51); B5: WHITE RABBIT (2:27); B6: PLASTIC FANTASTIC LOVER (2:33).
CATEGORY: POP-ROCK | DURATION: 34 MINUTES
Set apart from fellow West Coast bands by the contributions of female vocalist Grace Slick, Jefferson Airplane presented folk-rock with a psychedelic edge on their second album Surrealistic Pillow, which includes their best-known song "White Rabbit". Although the album would have been even stronger without the inclusion of the overly indulgent single "My Best Friend", it survives by measure of all its other tracks which are uniformly imbued with a chilling blend of acid psychosis and melancholic otherness.
THIS BOOK IS DEDICATED TO THE MEMORY OF ROBERT YOUNG (1964-2014)
"ÆTERNUM VORTICE LACRIMARUM SOMNIAT"