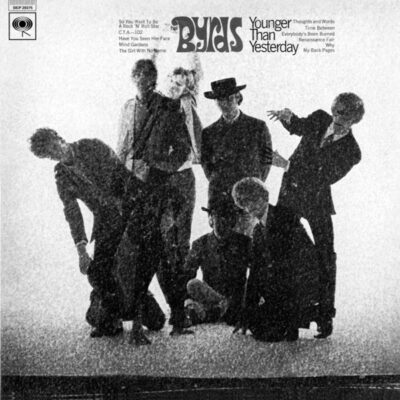 A1: SO YOU WANT TO BE A ROCK'N'ROLL STAR (2:04); A2: HAVE YOU SEEN HER FACE (2:29); A3: C.T.A.-102 (2:29); A4: RENAISSANCE FAIR (1:50); A5: TIME BETWEEN (1:54); A6: EVERYBODY'S BEEN BURNED (3:02).
B1: THOUGHTS AND WORDS (2:55); B2: MIND GARDENS (3:29); B3: MY BACK PAGES (3:15); B4: THE GIRL WITH NO NAME (1:50); B5: WHY (2:40).
CATEGORY: POP-ROCK | DURATION: 29 MINUTES
Released in 1967, Younger Than Yesterday highlights The Byrds' mastery of multiple pop-rock styles, ranging from space-rock and psychedelia to country-rock and their final Dylan cover single "My Back Pages", evidently the lyrical inspiration for the album's title. Roger McGuinn's treated raga-guitar immerses the more experimental tracks in an aura of sacred hallucination, notably on David Crosby's "Mind Gardens", a baroque psych-pop form that Tim Buckley also aspired to but could only occasionally master. With most songs lasting under three minutes, Younger Than Yesterday placed The Byrds at the apex of pop-rock innovation within a subversively commercial format.
THIS BOOK IS DEDICATED TO THE MEMORY OF ROBERT YOUNG (1964-2014)
"ÆTERNUM VORTICE LACRIMARUM SOMNIAT"