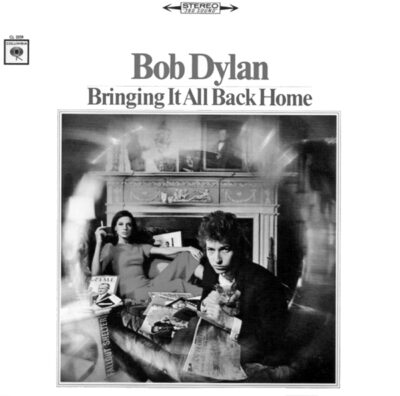 BRINGING IT ALL BACK HOME
A1: SUBTERRANEAN HOMESICK BLUES (2:17); A2: SHE BELONGS TO ME (2:48); A3: MAGGIE'S FARM (3:51); A4: LOVE MINUS ZERO/NO LIMIT (2:47); A5: OUTLAW BLUES (3:00); A6: ON THE ROAD AGAIN (2:30); A7: BOB DYLAN'S 115th DREAM (6:29).
B1: MR. TAMBOURINE MAN (5:25); B2: GATES OF EDEN (5:42); B3: IT'S ALRIGHT, MA (I'M ONLY BLEEDING) (7:30); B4: IT'S ALL OVER NOW, BABY BLUE (4:13).
CATEGORY: POP-ROCK | DURATION: 47 MINUTES
Protest singer/Beat poet Dylan was another artist – perhaps inspired by the British rock invasion – who elected to "go electric" and embrace rock and roll, an experiment in which he was backed by various session musicians. Dylan's new electric songs comprise Bringing It All Back Home's A-side, with side B devoted to four coruscating acoustic tracks. Bringing It All Back Home stands as the first classic pop-rock album, one in which the singer's poetic, often stream-of-consciousness words are as important as the music while the music itself achieves a dazzling new fusion of rock, pop, folk, politics and literary exposition. "Subterranean Homesick Blues", the album's lead single, also inspired a short but striking film sequence – one of the first attempts at a syncronised "music video" – shot by documentarist D.A. Pennebaker during Dylan's 1965 tour of the UK. In the throes of a meteoric ascent and already versed in the use of mind-expanding drugs, Dylan was poised to become the first true rock star, a position he would consolidate later that same year with the release of Highway 61 Revisited.
THIS BOOK IS DEDICATED TO THE MEMORY OF ROBERT YOUNG (1964-2014)
"ÆTERNUM VORTICE LACRIMARUM SOMNIAT"