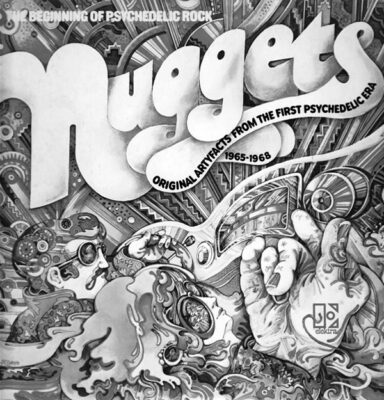 A1: The Kingsmen LOUIE LOUIE (2:48); A2: The Standells DIRTY WATER (2:48); A3: The Sonics STRYCHNINE (2:13); A4: The Strangeloves NIGHT TIME (2:33); A5: The Groupies PRIMITIVE (3:51); A6: The Squires GOING ALL THE WAY (2:23); A7: The Shadows Of Knight I'M GONNA MAKE YOU MINE (2:34); A8: Gonn BLACKOUT OF GRETELY (4:36).
B1: Question Mark & The Mysterians 96 TEARS (2:57); B2: The Electric Prunes I HAD TOO MUCH TO DREAM LAST NIGHT (3:00); B3: The 13th Floor Elevators YOU'RE GONNA MISS ME (2:30); B4: Count Five PSYCHOTIC REACTION (3:08); B5: Kit & The Outlaws DON'T TREAD ON ME (2:51); B6: The Other Half MR. PHARMACIST (2:25); B7: Swamp Rats HEY FREAK (2:17); B8: Davie Allan & The Arrows BLUE'S THEME (2.10).
C1: The Bees VOICES GREEN AND PURPLE (1:36); C2: The Outcasts I'M IN PITTSBURGH (AND IT'S RAINING) (2:04); C3: The Haunted 1-2-5 (2:31); C4: The Monks I HATE YOU (3:34); C5: The Magic Mushrooms IT'S-A-HAPPENING (2:48); C6: Blues Magoos TOBACCO ROAD (4:43); C7: The Third Bardo I'M FIVE YEARS AHEAD OF MY TIME (2:17); C8: The Litter ACTION WOMAN (2:34).
D1: The Sparkles NO FRIEND OF MINE (2:27); D2: The Calico Wall I'M A LIVING SICKNESS (2:41); D3: The Amboy Dukes BABY PLEASE DON'T GO (5:40); D4: Steppenwolf BORN TO BE WILD (3:31); D5: Nazz OPEN MY EYES (2:46); D6: The Lollipop Shoppe YOU MUST BE A WITCH (2:50); D7: Strawberry Alarm Clock INCENSE AND PEPPERMINTS (2:50); D8: Iron Butterfly IN-A-GADDA-DA-VIDA (2:52).
CATEGORY: GARAGE ROCK | DURATION: 86 MINUTES
An updated 2-CD, 32-track version of Nuggets, the double album originally compiled in 1972 by future Patti Smith Group guitarist Lenny Kaye and released by Elektra. Nuggets is a crucial anthology which documents many of the countless garage-rock bands which exploded in America (and Canada) alongside and subsequent to the mid-60s "British Invasion" of beat groups spearheaded by the Rolling Stones and The Who. This wave was originally set in motion by The Kingsmen, whose 1963 single "Louie Louie" stands as garage-rock's monolithic progenitor. Ranging from fuzz-guitar punk to bubblegum and quasi-psychedelic mania, the tracks on Nuggets illustrate a core rock and roll artform which influenced a new generation of rising rockers upon the album's 70s release.
THIS BOOK IS DEDICATED TO THE MEMORY OF ROBERT YOUNG (1964-2014)
"ÆTERNUM VORTICE LACRIMARUM SOMNIAT"