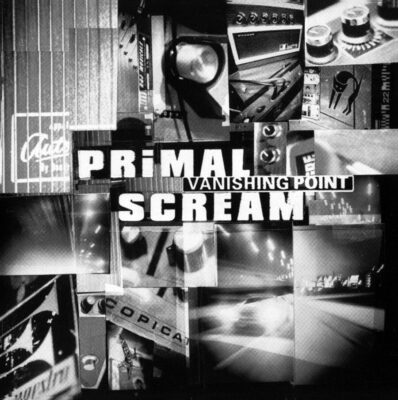 A1: BURNING WHEEL (7:06); A2: GET DUFFY (4:10); A3: KOWALSKI (5:50); A4: IF THEY MOVE, KILL 'EM (DISCO MIX) (5:44); A5: HOW DOES IT FEEL TO BELONG (5:36).
B1: OUT OF THE VOID (3:59); B2: STUKA (5:36); B3: LAST TRAIN (6:22); B4: LONG LIFE (3:53); B5: DARKLANDS (6:11).
CATEGORY: EXPERIMENTAL POP | DURATION: 55 MINUTES
Laudably leaning in to their more experimental inclinations, Primal Scream created Vanishing Point. This 10-song version of Vanishing Point is compiled from the more than thirty released tracks recorded for and around the album, including various single releases and the companion album Echo Dek, a dub set mixed by Adrian Sherwood. The tracks selected for this version of Vanishing Point all bend towards the exploratory, with music predominantly constructed from samples, electronic beats, tape loops and dub effects. From the epic opener "Burning Wheel" to the closing "Darklands", a radical reinterpretation of the title song from the second Jesus and Mary Chain album, Vanishing Point documents the beginning of the period when, finally achieving personnel stability, Primal Scream would create their most mordant and memorable recordings.
THIS BOOK IS DEDICATED TO THE MEMORY OF ROBERT YOUNG (1964-2014)
"ÆTERNUM VORTICE LACRIMARUM SOMNIAT"