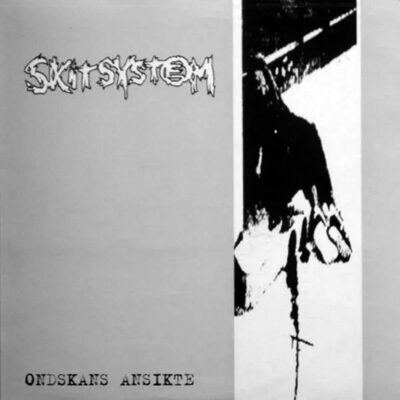 A1: JAG VÄGRAR (2:21); A2: ONDSKANS ANSIKTE (1:54); A3: PROFIT OVERSHADOWS NEED (1:34); A4: ETT LIV I FRIHET (1:05); A5: SYSTEM COLLAPSE (2:04); A6: DÖDSMASKIN (1:17).
B1: KROSSA MIG (3:44); B2: ALLT E SKIT (1:58); B3: VÄLFÄRD (2:21); B4: PIGS (2:29).
CATEGORY: ANARCHO-DEATH | DURATION: 21 MINUTES
Like Disfear, Skitsystem ("Shit System") was a Swedish anarcho-death band, formed in 1994 and including two members of deathly metal act At The Gates. The music offered on Ondskans Ansikte ("Face Of Evil") is even more bleak than that of Disfear; Skitsystem operate through a bleeding wall of obscenely distorted guitar noise to deliver a message of absolute anarchy, entropy and annihilation. Ondskans Ansikte, originally released on 10-inch vinyl, marks the eclipse of deathly metal in the Swedish underground by the ultimate mutation of D-Beat into Death-Beat, a process hastened by At The Gates themselves with the capitulation shown by their genre-diluting "melodeath" release Slaughter Of The Soul from the previous year.
THIS BOOK IS DEDICATED TO THE MEMORY OF ROBERT YOUNG (1964-2014)
"ÆTERNUM VORTICE LACRIMARUM SOMNIAT"