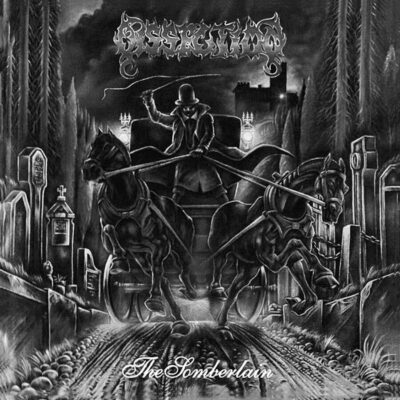 A1: BLACK HORIZONS (8:12); A2: THE SOMBERLAIN (7:07); A3: CRIMSON TOWERS (0:50); A4: A LAND FORLORN (6:40); A5: HEAVEN'S DAMNATION (4:42).
B1: FROZEN (3:47); B2: INTO INFINITE OBSCURITY (1:05); B3: IN THE COLD WINDS OF NOWHERE (4:22); B4: THE GRIEF PROPHECY / SHADOWS OVER A LOST KINGDOM (3:31); B5: MISTRESS OF THE
BLEEDING SORROW (4:36); B6: FEATHERS FELL (0:41).
CATEGORY: METAL | DURATION: 36 MINUTES
The final evolution of extreme metal. By combining death metal with elements learned from the previous year's black metal uprising, Swedish band Dissection marked the imminent closure of extreme metal's first – and only significant – decade with a new, "melodic" model that uses a black aesthetic to present heavenly carnage from the ultraworld. Described by band leader Jon Nödtveidt – who in 1997 was imprisoned for murder and later committed ritualistic suicide – as "Majestic Satanic Metal of Death", The Somberlain offers up an intricate ice-blizzard of morbid, nigrescent riffs which occasionally loop back into a celestial spectre of transfigured heavy metal but always see Dissection maintain maximal propulsion towards the conclusion of extreme metal as a self-fulfilling prophecy. Other Swedish bands, notably Sacramentum, soon followed Dissection's lead, while Dissection continued – some say perfected – this music with the 1995 recording Storm Of The Light's Bane, after which the dying world of metal music was left to devour itself in cannibalistic decay.
THIS BOOK IS DEDICATED TO THE MEMORY OF ROBERT YOUNG (1964-2014)
"ÆTERNUM VORTICE LACRIMARUM SOMNIAT"