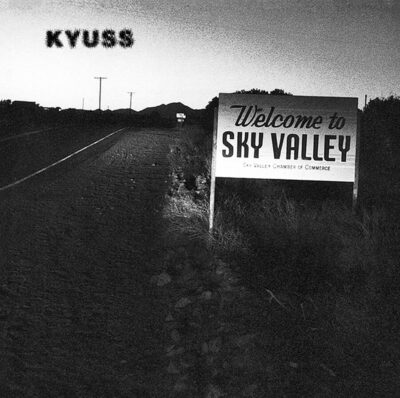 A1: GARDENIA (5:53); A2: ASTEROID (4:50); A3: SUPA SCOOPA AND MIGHTY SCOOP (5:56); A4: 100° (2:29); A5: SPACE CADET (7:03).
B1: DEMON CLEANER (5:23); B2: ODYSSEY (4:20); B3: CONAN TROUTMAN (3:12); B4: N.O. (3:48); B5: WHITEWATER (7:52).
CATEGORY: HEAVY ROCK | DURATION: 51 MINUTES
Often referred to as "Welcome To Sky Valley" after the desert signpost shown on its cover, the self-titled third album from Kyuss sees the band double down on their heavy psyched-up trip with the force of a bone-smashing hammer in a haunted ballroom. Kyuss is the sound of the 70s reduced to magma, super-cooled in iron coffins, and regurgitated as artery-severing shards of vitrified violence.
THIS BOOK IS DEDICATED TO THE MEMORY OF ROBERT YOUNG (1964-2014)
"ÆTERNUM VORTICE LACRIMARUM SOMNIAT"