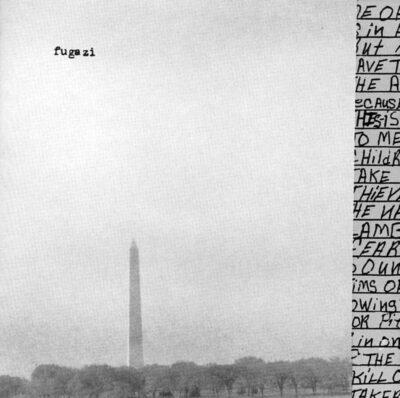 A1: FACET SQUARED (2:42); A2: PUBLIC WITNESS PROGRAM (2:04); A3: RETURNING THE SCREW (3:13); A4: SMALLPOX CHAMPION (4:01); A5: REND IT (3:48); A6: 23 BEATS OFF (6:41).
B1: SWEET AND LOW (3:36); B2: CASSAVETES (2:30); B3: GREAT COP (1:52); B4: WALKEN'S SYNDROME (3:18); B5: INSTRUMENT (3:43); B6: LAST CHANCE FOR A SLOW DANCE (4:38).
CATEGORY: HARDCORE ROCK | DURATION: 43 MINUTES
Hardcore rock with an experimental edge from Fugazi, a band whose lineage extends back to Rites Of Spring and Minor Threat. As oblique as the found scrap of paper which engendered its title, In On The Kill Taker is a barbed guitar-heavy frenzy through facets of the mind expressed as aural mania, ranging from noise to near-silence and unrepentant in its summation of punk's legacy going forward into negation.
THIS BOOK IS DEDICATED TO THE MEMORY OF ROBERT YOUNG (1964-2014)
"ÆTERNUM VORTICE LACRIMARUM SOMNIAT"