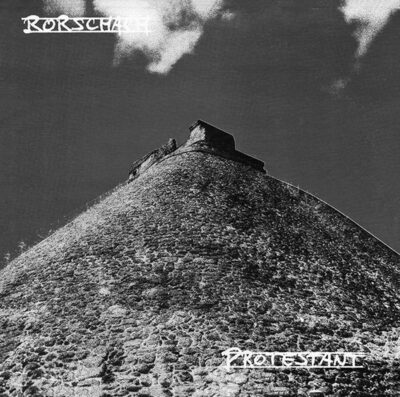 A1: MANDIBLE (2:40); A2: IN RUINS (2:28); A3: TRADITIONAL (3:15); A4: DRAWN AND QUARTERED (3:21); A5: SHANKS
(3:23); A6: RECURRING NIGHTMARE #105 (3:44).
B1: BLINDERS (3:30); B2: HEMLOCK (2:23); B3: RAW NERVE (1:25); B4: SKIN CULTURE (4:41); B5: CUT THE WHEEL (2:37);
B6: ORNAMENTS (4:14).
CATEGORY: HARDCORE | DURATION: 38 MINUTES
Although punk was long dead by the early 1990s, a new iteration of hardcore music rose up to take its place – heavier, more art-brutal, and more metallic than ever before. Harking back to the 80s thrash-punk of bands like Die Kreuzen and Prong, but slowed down and crucially informed by the intervening years of death metal, grindcore, noise and other extreme configurations, this new hardcore would in variant forms provide the most violently engaging underground rock-related music of the decade. Rorschach's Protestant was the first essential album of this post-metal hardcore, showing how a new complexity and artistic awareness could elevate the genre during its final arc.
THIS BOOK IS DEDICATED TO THE MEMORY OF ROBERT YOUNG (1964-2014)
"ÆTERNUM VORTICE LACRIMARUM SOMNIAT"