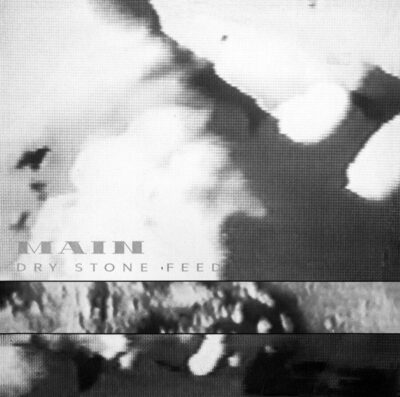 A1: CYPHER (5:12); A2: ABOVE AXIS (5:54); A3: BLOWN (7:48).
B1: PULLED FROM THE WATER (12:11); B2: DRY STONE FEED (7:19).
CATEGORY: EXPERIMENTAL | DURATION: 39 MINUTES
In the early 1990s, when all existing strands of rock, pop and metal were either creatively exhausted or nearing exhaustion, Main – a project which arose from the ashes of Loop – disclosed an alternative future simply by shifting from guitar-based rock music to guitar-based experimental music. This strategy, which would sometimes be labelled "post-rock" – although that term better describes a time-period rather than a style – would be adapted by a number of artists going forward, creating a style-neutral music stripped of standard rock and roll attributes. Main's Dry Stone Feed is a brilliantly challenging record which sculpts abrasive power into new forms whilst indicating an oncoming progression into pure ambience, a direction which would be further evidenced on their 1993 album Motion Pool.
THIS BOOK IS DEDICATED TO THE MEMORY OF ROBERT YOUNG (1964-2014)
"ÆTERNUM VORTICE LACRIMARUM SOMNIAT"