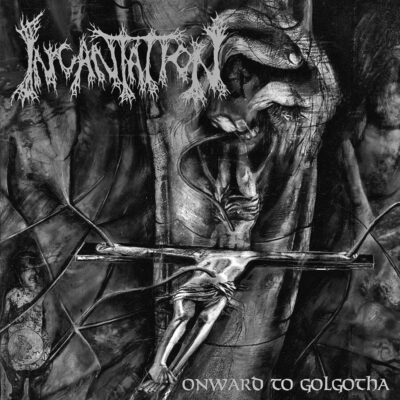 A1: GOLGOTHA (3:29); A2: DEVOURED DEATH (2:19); A3: BLASPHEMOUS CREMATION (4:24); A4: ROTTING SPIRITUAL
EMBODIMENT (4:58); A5: UNHOLY MASSACRE (4:38).
B1: ENTRANTMENT OF EVIL (2:39); B2: CHRISTENING THE AFTERBIRTH (5:33); B3: IMMORTAL CESSATION (3:26); B4: PROFANATION (4:54); B5: DELIVERANCE OF HORRIFIC PROPHECIES (5:28).
CATEGORY: DEATH METAL | DURATION: 42 MINUTES
Like a swamp vortex sucking all light into its putrescent eye, Incantation's Onward To Golgotha – recorded in 1991, mixed and released early 1992 – is the final classic opus of American death metal's first – and only vital – phase. Whereas fellow New York band Suffocation went for a relentless, brutal new slam-sound with unfeasible vocals, Incantation present death metal as a murky, swirling and fathomless occult summoning, an immersive descent into the bowels of some great Satanic beast. Onward To Golgotha is a fitting closer for the age of pure death metal, before repetition and dilution for the masses set in like an unchecked corpse-rot.
THIS BOOK IS DEDICATED TO THE MEMORY OF ROBERT YOUNG (1964-2014)
"ÆTERNUM VORTICE LACRIMARUM SOMNIAT"