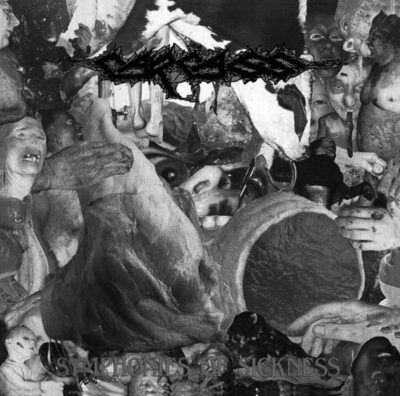 A1: REEK OF PUTREFACTION (4:01); A2: EXHUME TO CONSUME (3:50); A3: EXCORIATING ABDOMINAL EMANATION (4:30); A4: RUPTURED IN PURULENCE (4:11); A5: EMPATHOLOGICAL NECROTICISM (5:47).
B1: EMBRYONIC NECROPSY AND DEVOURMENT (5:13); B2: SWARMING VULGAR MASS OF INFECTED VIRULENCY (3:10); B3: CADAVERIC INCUBATOR OF ENDOPARASITES (3:22); B4: SLASH
DEMENTIA (3:21); B5: CREPITATING BOWEL EROSION (5:28).
CATEGORY: METAL | DURATION: 43 MINUTES
Carcass avoided the anarcho-political viewpoint of UK grindcore scene-mates Napalm Death in favour of humorously reordered terminologies from the world of forensic pathology, a trait which by their second album Symphonies Of Sickness resulted in a fully-blown deathly gore-grind experience edging English metal even closer to its American counterpart. Enhanced by frequently-censored cover collages of human anatomy, corpses and butchery, this album completes first-phase Carcass before they ventured more into progressive song structures, and takes hardcore-spawned English metal to its edge of extremity.
THIS BOOK IS DEDICATED TO THE MEMORY OF ROBERT YOUNG (1964-2014)
"ÆTERNUM VORTICE LACRIMARUM SOMNIAT"