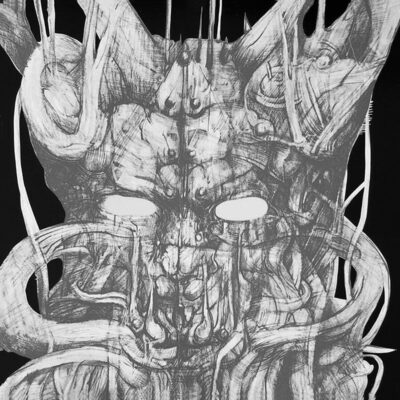 A1: GÜYSTICK BODIE (4:37); A2: SKULLFUCK (3:17); A3: WAR PIG (6:53).
B1: SLAM KING (16:06).
CATEGORY: NOISE-METAL | DURATION: 31 MINUTES
Primal noise metal, comprising evil, pulverizing slow-paced riffs entwined with hellish howling and a vortex of guitar feedback and white dissonance. On Maximum Love + Fuck Japan's Zeni Geva – KK Null, Mitsuru Tabata and Ikuo Taketani – use bludgeoning repetition to enforce their extreme sonic visions; they have no bass, only drums and two guitars – one to grind out the skull-crushing riffs, the other (Null) to create as much delirious noise as possible, augmented by cacophonous swathes of electrified violin.
THIS BOOK IS DEDICATED TO THE MEMORY OF ROBERT YOUNG (1964-2014)
"ÆTERNUM VORTICE LACRIMARUM SOMNIAT"