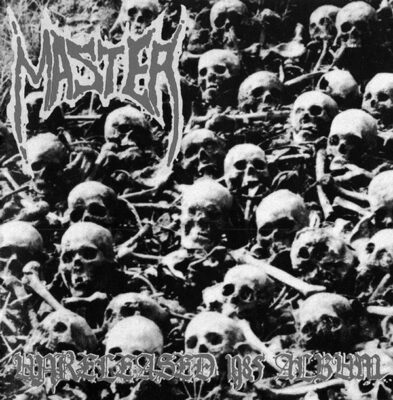 A1: MASTER (2:55); A2: UNKNOWN SOLDIER (2:49); A3: MANGLED DEHUMANISATION (1:54); A4: FUNERAL BITCH (2:00).
B1: TERRORIZER (2:46); B2: PLEDGE OF ALLIANCE (1:58); B3: RE-ENTRY AND DESTRUCTION (2:54).
CATEGORY: METAL | DURATION: 18 MINUTES
After warming up as DeathStrike, whose 4-track demo cassette Fuckin Death was released earlier that year, Master signed a record deal and created these 18 minutes of relentless, intense, guitar-heavy music fusing hardcore and extreme metal sensibilities. With subject matter based around warfare and mass human destruction, and some of the most brutal American metal music of 1985, Master can now be viewed as being among those first bands diverting underground metal into deeper and darker territory (others included Death, Insanity and Possessed). Shelved at the time, the seven tracks on Master were not released until 2003.
THIS BOOK IS DEDICATED TO THE MEMORY OF ROBERT YOUNG (1964-2014)
"ÆTERNUM VORTICE LACRIMARUM SOMNIAT"