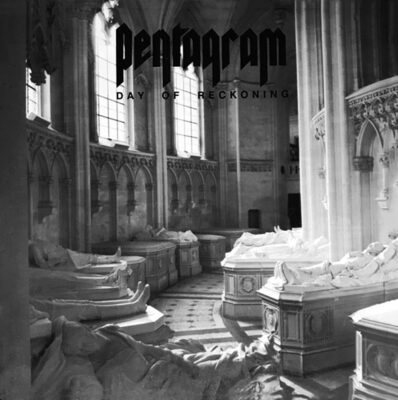 A1: DAY OF RECKONING (2:40); A2: EVIL SEED (4:39); A3: BROKEN VOWS (4:38); A4: WHEN THE SCREAMS COME (3:43).
B1: BURNING SAVIOUR (9:08); B2: MADMAN (4:18); B3: WARTIME (5:23).
CATEGORY: HEAVY ROCK | DURATION: 35 MINUTES
Death Row's first album recorded as Pentagram, advancing the aesthetic of the previous All Your Sins and perfecting their post-Sabbath sound over 35 minutes of punishing neo-heavy rock. With Day Of Reckoning – not released until 1987 – Pentagram confirmed their status as the leading purveyors of dark, obsessive and relentless music driven by repetitive distorted riffs which seek to excoriate the listener's skull. Includes a cover version of "When the Screams Come", a song written and first recorded in 1973 by the original Pentagram. Along with The Obsessed and Saint Vitus, Pentagram formed the vanguard of 80s heavy rock; but a third, final and more progressive wave was yet to come in the following decade.
THIS BOOK IS DEDICATED TO THE MEMORY OF ROBERT YOUNG (1964-2014)
"ÆTERNUM VORTICE LACRIMARUM SOMNIAT"