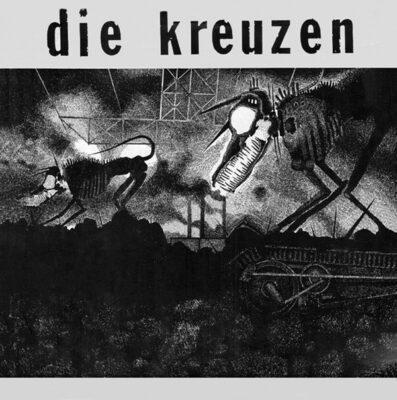 A1: RUMORS (1:49); A2: THIS HOPE (1:12); A3: IN SCHOOL (1:24); A4: I'M TIRED (0:53); A5: ON THE STREETS (1:35); A6: ENEMIES (0:57); A7: GET 'EM (0:58); A8: FIGHTING (0:38); A9: NO TIME (1:19); A10: ALL WHITE (3:38).
B1: PAIN (1:51); B2: SICK PEOPLE (1:33); B3: HATE ME (0:48); B4: LIVE WIRE (1:48); B5: NOT ANYMORE (0:58); B6: MANNEQUIN (1:13); B7: FUCKUPS (1:13); B8: THINK FOR ME (1:42); B9: DIRT AND DECAY (1:15); B10: DON'T SAY PLEASE (1:04); B11: NO NAME (1:29).
CATEGORY: HARDCORE | DURATION: 30 MINUTES
Edging towards the metallic end of the hardcore spectrum, Die Kreuzen deliver twenty-one high-velocity tracks in just under thirty minutes on Die Kreuzen, their first album. With a swathe of savagely inventive riffs and a raw maniacal vocal style, Die Kreuzen is a vital work in the progression of incisive underground music throughout the 80s.
THIS BOOK IS DEDICATED TO THE MEMORY OF ROBERT YOUNG (1964-2014)
"ÆTERNUM VORTICE LACRIMARUM SOMNIAT"