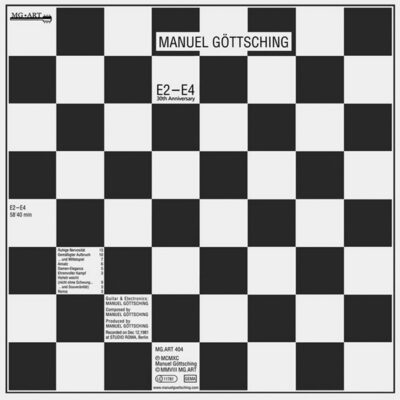 A1: RUHIGE NERVOSITÄT (13:00); A2: GEMÄßIGTER AUFBRUCH (10:00); A3: …UND MITTEL SPIEL (7:00); A4: ANSATZ (1:00).
B1: DAMEN-ELEGANZA (5:00); B2: EHRENVOLLER KAMPF (3:00); B3: HOHEIT WEICHT (NICHT OHNE SCHWUNG…) (9:00); B4: …UND SOUVERÄNITÄT (3:00); B5: REMIS (3:00).
CATEGORY: TRANCE | DURATION: 59 MINUTES
From music for airports to music for airplanes – Ash Ra Tempel guitarist Göttsching created E2-E4 to listen to on long flights, and in doing so made perhaps the first significant advance in ambient music since Brian Eno's foundational recordings of 1978. A hypnotic, almost hour-long electronic loop overlaid with guitars, E2-E4 also utilizes a drum machine track, thereby linking it to the experiments in "ambient techno" music which would be made by UK's Aphex Twin a few years later. The album's title listings do not refer to separate tracks, but rather to movements within the main composition, which plays as one continuous piece. E2-E4 stands as the most original trance music since Terry Riley, updated for the new machine age.
THIS BOOK IS DEDICATED TO THE MEMORY OF ROBERT YOUNG (1964-2014)
"ÆTERNUM VORTICE LACRIMARUM SOMNIAT"