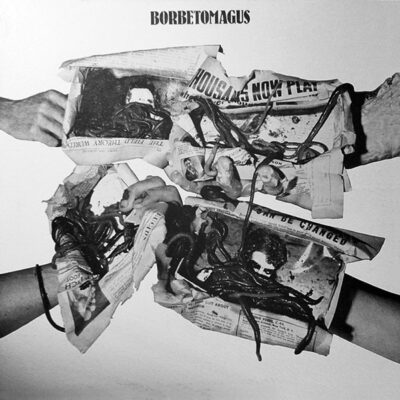 A1: CONCORDAT 1 (12:13); A2: CONCORDAT 2 (5:48).
B1: CONCORDAT 3 (5:19); B2: CONCORDAT 4 (9:28); B3: CONCORDAT 5 (7:34).
CATEGORY: FREE NOISE | DURATION: 41 MINUTES
Embracing the provocations issued by free noise-jazz musicians such as Japan's Abe Kaoru, as well as Lou Reed's Metal Machine Music, Borbetomagus were the first ensemble to combine unhinged reed instruments, guitar feedback and electronic noise generators in a new music of dark and unholy cacophony. These recordings from 1980 may also be said to comprise an "industrial" music, a term originally derived from the name of the record label established in 1977 by English experimental musicians Throbbing Gristle. Although TG and their various acolytes displayed aspirations towards creating such a music, none could match the absolute horror of Borbetomagus (the group later described their own music as "snuff jazz"). A black rampage through the graveyard of the senses.
THIS BOOK IS DEDICATED TO THE MEMORY OF ROBERT YOUNG (1964-2014)
"ÆTERNUM VORTICE LACRIMARUM SOMNIAT"