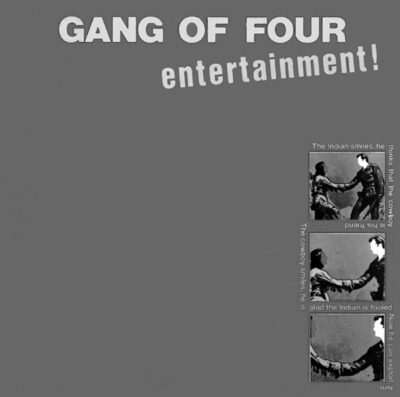 A1: ETHER (3:05); A2: NATURAL'S NOT IN IT (3:05); A3: NOT GREAT MEN (3:05); A4: DAMAGED GOODS (3:30); A5: RETURN THE GIFT (3:04); A6: GUNS BEFORE BUTTER (3:43).
B1: I FOUND THAT ESSENCE RARE (3:50); B2: GLASS (2:37); B3: CONTRACT (2:40); B4: AT HOME (HE'S A TOURIST) (3:30); B5: 5.45 (3:40); B6: LOVE LIKE ANTHRAX (4:20).
CATEGORY: ANTI-ROCK | DURATION: 40 MINUTES
Marked by their overt political posture, Gang of Four produced a suitably abrasive music combining scratchy neural guitar attacks, tough white-funk rhythms and inflammatory half-shouted vocals, making their first album Entertainment! not quite like anything heard before. They never matched it, but its subsequent influence is clear to see; Entertainment! remains one of the quintessential releases of the UK's immediate post-Pistols anti-rock period.
THIS BOOK IS DEDICATED TO THE MEMORY OF ROBERT YOUNG (1964-2014)
"ÆTERNUM VORTICE LACRIMARUM SOMNIAT"