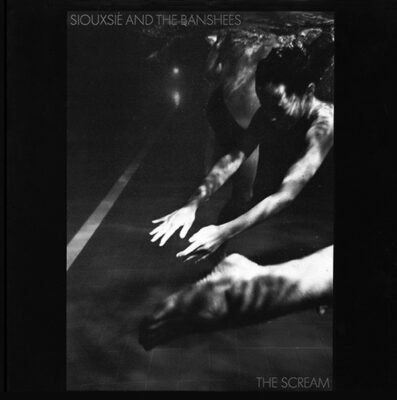 SIOUXSIE AND THE BANSHEES
A1: PURE (1:50); A2: JIGSAW FEELING (4:37); A3: OVERGROUND (3:48); A4: CARCASS (3:49); A5: HELTER SKELTER (3:46).
B1: MIRAGE (2:48); B2: METAL POSTCARD (4:13); A3: NICOTINE STAIN (2:57); A4: SUBURBAN RELAPSE (4:10); A5: SWITCH (6:51).
CATEGORY: ANTI-ROCK | DURATION: 39 MINUTES
Rock and roll died a lonely death, but the wake was a riot. Bands like Public Image Limited and Siouxsie And The Banshees emerged with a new anti-rock stance and sound as exciting as its forebear and even more disruptive. The Scream, the first Banshees album, is an exemplar of this new phase in popular music, often termed "post-punk" by the music press. Images of mental illness and alienation cascade through the jagged jaws of a music which utilises traditional rock instrumentation in abrasive new ways, countering pop thrills with dissonance and terror. As beautiful as blood on the walls of a padded cell, The Scream more than lives up to its title.
THIS BOOK IS DEDICATED TO THE MEMORY OF ROBERT YOUNG (1964-2014)
"ÆTERNUM VORTICE LACRIMARUM SOMNIAT"