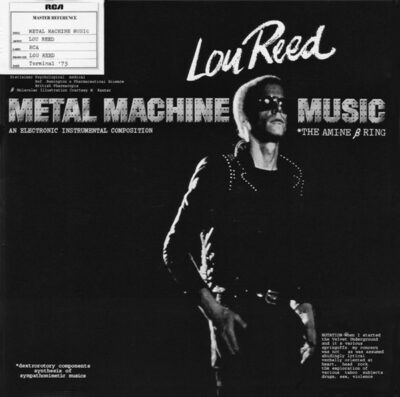 A1: METAL MACHINE MUSIC A-1 (16:01).
B1: METAL MACHINE MUSIC A-2 (16:01).
C1: METAL MACHINE MUSIC A-3 (16:01).
D1: METAL MACHINE MUSIC A-4 (16:01).
CATEGORY: NOISE | DURATION: 64 MINUTES
After a succession of below-average solo albums, former Velvet Underground singer/guitarist Lou Reed finally – if perhaps unwittingly – created a modern masterpiece. Sub-titled The Amine β Ring, Metal Machine Music was an exhilarating double LP of circular guitar noise, feedback and electric cacophony, hilariously marketed by RCA as a mainstream rock album. It was soon withdrawn from sale after multiple bad reviews, customer returns and complaints. Metal Machine Music may have been intended as a joke, a contract-ending ploy, or just a sneer at the world in general; it turned out to be Reed's one and only post-VU recording of any interest or lasting value. It stands as a foundational recording of noise music and a harbinger of future aberrations, drone metal in particular.
THIS BOOK IS DEDICATED TO THE MEMORY OF ROBERT YOUNG (1964-2014)
"ÆTERNUM VORTICE LACRIMARUM SOMNIAT"