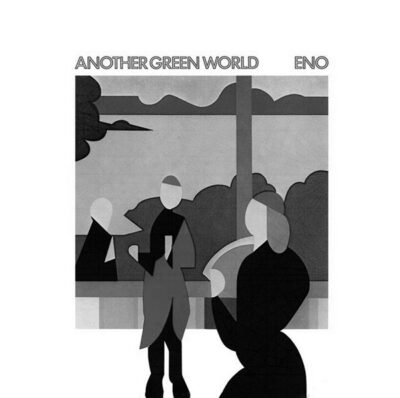 A1: SKY SAW (3:27); A2: OVER FIRE ISLAND (1:51); A3: ST. ELMO'S FIRE (3:01); A4: IN DARK TREES (2:32); A5: THE BIG SHIP (2:37); A6: I'LL COME RUNNING (3:50); A7: ANOTHER GREEN WORLD (1:42).
B1: SOMBRE REPTILES (2:23); B2: LITTLE FISHES (1:32); B3: GOLDEN HOURS (4:00); B4: BECALMED (3:55); B5: ZAWINUL/LAVA (2:56); B6: EVERYTHING MERGES WITH THE NIGHT (4:03); B7: SPIRITS DRIFTING (2:47).
CATEGORY: EXPERIMENTAL POP | DURATION: 41 MINUTES
Eno's third album of 1975 was a challenging work of experimental pop, informed by his contiguous experiments in ambient sound. More instrumental than not, the pieces on Another Green World display the origins of a music which Eno would bring to fruition through his Berlin collaborations with David Bowie the following year. Another milestone from Eno's golden decade as the leading innovator in popular music.
THIS BOOK IS DEDICATED TO THE MEMORY OF ROBERT YOUNG (1964-2014)
"ÆTERNUM VORTICE LACRIMARUM SOMNIAT"