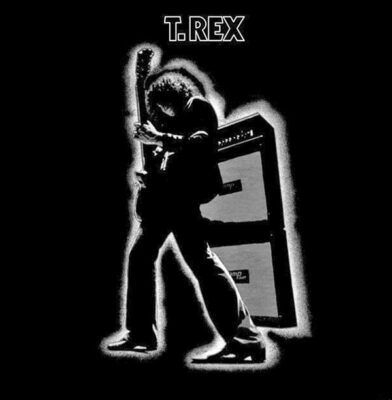 A1: MAMBO SUN (3:38); A2: COSMIC DANCER (4:27); A3: JEEPSTER (4:10); A4: MONOLITH (3:35); A5: LEAN WOMAN BLUES (3:00).
B1: GET IT ON (4:25); B2: PLANET QUEEN (3:11); B3: GIRL (2:30); B4: THE MOTIVATOR (3:59); B5: LIFE'S A GAS (2:22); B6: RIP OFF (3:39).
CATEGORY: GLAM ROCK | DURATION: 39 MINUTES
The first all-electric album by Marc Bolan's T. Rex, fusing Bolan's cosmic visions and velvet bop poetry with a pop-rock musical style evidently influenced by American guitar bands of the period like Creedence Clearwater Revival. Combined with the singer's glitter-drenched persona, Electric Warrior stands as the first transmission of glam rock, a new British pop and fashion movement for the early 70s configured around androgyny and classic 7-inch singles. Two such releases, "Jeepster" and "Get It On", can be found on Electric Warrior, and rank among the best of all time; many more would follow.
THIS BOOK IS DEDICATED TO THE MEMORY OF ROBERT YOUNG (1964-2014)
"ÆTERNUM VORTICE LACRIMARUM SOMNIAT"