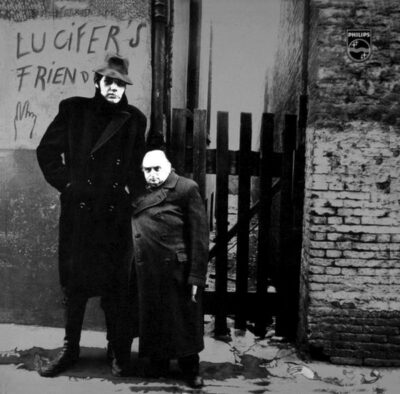 A1: RIDE THE SKY (2:54); A2: EVERYBODY'S CLOWN (6:07); A3: KEEP GOIN' (5:22); A4: TOXIC SHADOWS (6:57).
B1: FREE BABY (5:26); B2: BABY YOU'RE A LIAR (3:51); B3: IN THE TIME OF JOB WHEN MAMMON WAS A YIPPIE (4:01); B4: LUCIFER'S FRIEND (6:08).
CATEGORY: HEAVY ROCK | DURATION: 41 MINUTES
By 1970 the domination of rock and roll music by the USA and UK was almost complete, but in certain countries like Sweden, Japan, and above all Germany, resistance was rising. Lucifer's Friend was a German heavy rock band with an English singer. Their first album, Lucifer's Friend, is a blast of driving heavy rock that foreshadows metal with its vocal stylings, and joins offerings from the same year by Deep Purple, Atomic Rooster and others in laying the foundations of extreme music for future decades.
THIS BOOK IS DEDICATED TO THE MEMORY OF ROBERT YOUNG (1964-2014)
"ÆTERNUM VORTICE LACRIMARUM SOMNIAT"