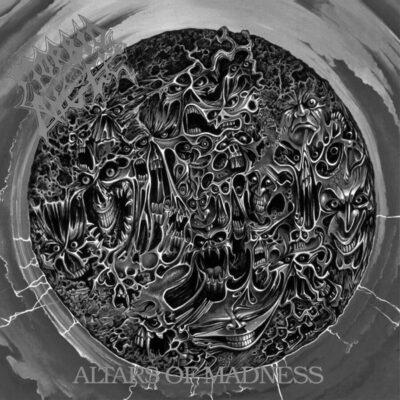 A1: IMMORTAL RITES (4:05); A2: SUFFOCATION (3:14); A3: VISIONS FROM THE DARK SIDE (4:08); A4: MAZE OF TORMENT (4:23); A5: LORD OF ALL FEVERS AND PLAGUE (3:26).
B1: CHAPEL OF GHOULS (4:58); B2: BLEED FOR THE DEVIL (2:22); B3: DAMNATION (4:09); B4: BLASPHEMY (3:28); B5: EVIL SPELLS (4:12).
CATEGORY: DEATH METAL | DURATION: 39 MINUTES
Recorded at Morrisound in the final month of death metal's breakout year, Morbid Angel's Altars Of Madness – their second, but first to be released – detonated the form in spectacular fashion. Revelling in the throes of a Lovecraftian cosmic occultism, founder/leader Trey Azagthoth presented his psychedelic vision of metal as a summoning of ancient entities and tortured souls in damnation, enabled by some of the wildest guitar attacks yet captured in the metal domain. Following on from Death's Leprosy, Altars Of Madness sets the scene and the standard for death metal's 5-year rise and fall.
THIS BOOK IS DEDICATED TO THE MEMORY OF ROBERT YOUNG (1964-2014)
"ÆTERNUM VORTICE LACRIMARUM SOMNIAT"