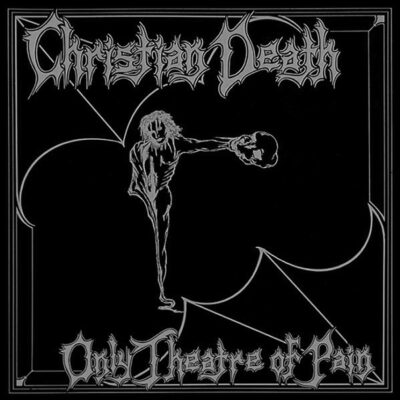 A1: CAVITY – FIRST COMMUNION (4:06); A2: FIGURATIVE THEATRE (2:42); A3: BURNT OFFERINGS (3:45); A4: MYSTERIUM INIQUITATIS (2:46); A5: DREAM FOR MOTHER (3:18).
B1: STAIRS (UNCERTAIN JOURNEY) (3:02); B2: SPIRITUAL CRAMP (2:56); B3: ROMEO'S DISTRESS (3:16); B4: RESURRECTION – SIXTH COMMUNION (3:43); B5: PRAYER (2:27).
CATEGORY: DEATH-ROCK | DURATION: 33 MINUTES
The only credible album to emerge from the entire sub-Banshees goth movement, Christian Death's Only Theatre Of Pain presents a blueprint for death-rock, driven by vocalist/founder Rozz Williams and punk-noise guitarist Rikk Agnew, and emerging from the same LA punk scene as The Gun Club. Against Agnew's brutal riffs and feedback Williams – a future suicide – declaims a blasphemous litany of desecration, sodomy, necrophilia and other unholy transgressions, an assault on "decency" which provoked outrage amongst religious communities. This incarnation of Christian Death soon dissolved, leaving Only Theatre Of Pain as the band's sole essential work.
THIS BOOK IS DEDICATED TO THE MEMORY OF ROBERT YOUNG (1964-2014)
"ÆTERNUM VORTICE LACRIMARUM SOMNIAT"